Prominent firm offering unmatched quality Tungsten Products at affordable prices.
A Prominent Firm offering unmatched quality Tungsten Alloys at affordable prices.


About Us
Incorporated in October 2001,
Guangxi Chentian Metal Products Co., Ltd
is an
ISO 9001:2008
Certified
Exporter, Supplier
&
Manufacturer
of
Tungsten Heavy Alloys
which are produced with the help of employing efficient thermomechanical processing technology in order to ensure the full density as well as optimum microstructural characteristics. Besides high-grade Tungsten Heavy Alloys, our range spans high-density Tungsten Alloy, Tungsten Shot, Non-Toxic Tungsten Alloy Fishing Sinker, Tungsten Alloy Ball, Tungsten Alloy Rod and Plate, which have application in aircraft and space craft vehicles, ballistics, etc.
Being dependable and integrated
Tungsten Heavy Alloy
Manufacturer and Producer with leading-edge production technology, therefore serving a number of industries like Automobile, Aircraft, Industrial machinery, etc. Our range of various Tungsten Heavy Alloys Products guarantee the properties like low contiguity, diminutive grain size, and sturdy W-matrix interface and robust W-W grain boundary. Our entire offered range is manufactured under the direction of a team of skilled professionals who make use of qualitative raw material in compliance with the industry laid standards and guidelines. Our company boasts the advanced manufacturing process, exclusive sourcing channel, rigorous quality control system which has also helped us to attain a remarkable position in the domain.
Guangxi Chentian Metal Products Co., Ltd
is also engaged in producing several products made of Tungsten Heavy Alloys exported to different countries in the world. We pride ourselves on being a leading name in both national & international marketplaces related to both process and product technology and having developed well equipped Research and Development facility dedicated to extending the realm of manufacturing. We want to be fairly competitive in an intensively global marketplace, we have put on a global outlook and presence. We look for opportunities to reinforce the company's existing position in the Indian and overseas arena and strive to fulfill and set world-class quality standards in our product line.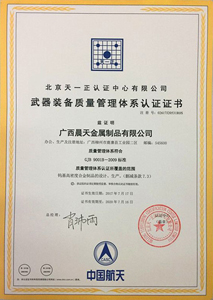 GUANGXI CHENTIAN METAL PRODUCTS CO., LTD
Area 2, Luzhai County Industrial Park, Liuzhou - 545600, Guangxi, China
Phone : 86-772-3600529
Fax : 86-772-6811659
Mr. KJ Gao (CTO and CSO)
Mobile : +8613215340999
Ms. Portia (Sales Executive)
Mobile : +8618677232507